News
Do-It-Yourself
|
Repairs
Do-It-Yourself: Share Catamaran Repair Tips at TheBeachcats.com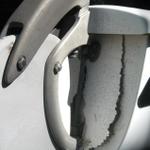 A lot of you have done a lot of catamaran sailing this season with the normal wear and tear on your boats. Sometimes the wear (or tear) is a little beyond the "normal" category. When that happens, don't forget your fellow catamaran sailors who might have the same situation in the future.
As you do your repair, or fix your problem, please take a moment during this stressful time to take pictures and make a few notes about how the problem happened, any warning signs, and how you fixed it.
Nothing fancy is needed, a phone camera, disposable camera, or professional SLR will all result in pictures to tell the story. As soon as you have the pictures, upload them to an album in the Beachcats Technical section of the photo gallery to help the next sailor with the same problem. You can easily come back later and add more detailed information to the pictures.
If you are currently struggling with a problem on your boat, check out the Beachcats Technical and you might find a solution.
More articles in category Do-It-Yourself & Repairs