News
Do-It-Yourself
|
Upgrades
Do-It-Yourself: Building Your Own Catamaran Sails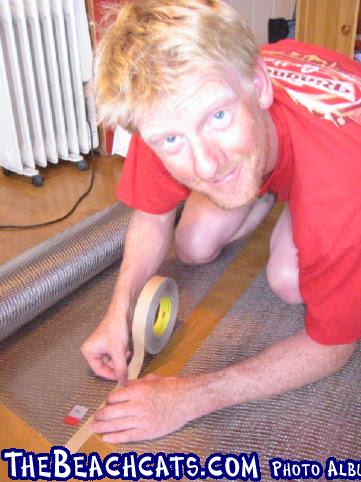 Amateur sail building..
Scene:
The sails on your catamaran looks (and pulls) like they have been trough both WWI and II. However you are seriously short on money, as the "admirals" priorities have your boat a long way down on the list (mortgages on the house, food, electricity and even gas are higher on the list, go figure..). So, what do you do? You gather all the creativity and initiative you normally pump into your sailing sessions, make a good deal on some sailcloth, keep on chanting "Navigare necesse est!" and build your own sails.
When we bought our current Tornado in 2001, a set of sails from year 2000 came with the boat. The Tornado class changed their sailplan after the 2000 Sidney Olympics, so these sails were a first generation cut. We used these sails both for training and competition until 2004, when we bought a well used asymmetric spinnaker from the Swedish Olympic Tornado team. Strangely enough, there was a huge difference in the power and speed this asymmetric developed compared with our 2000 asymmetric (I'm being ironic).
After this discovery, we began studying our main and jib with a critical eye. Compared to other T's, we were lacking both power and windward ability. A common problem with sails where the draft has moved aft. When hit by a gust, the boat wanted to heel instead of squirting forward, no matter how much we "massaged" the downhaul during gusts.Wanting to stay competitive with the fleet on the beat, it was time for some new sails. Besides, the old sails were literally falling apart. The luff tape on the main was so worn that hoisting and unhooking the main was a chore at every outing.
During the winter of '04 we checked prices for new sails from well known Tornado sail makers. Quickly, we discovered that we could only afford a set of dream sails (sails you can only dream about, not have in real-life). A check of the used market gave roughly the same answer, to expensive for our low-budget sailing. Affordable sails on the used market did not have much speed left in them.
The idea of building something our self began to take hold. Through the Internet (the pirate-TornadoCat e-mail list) we made contact with an Australian Tornado sailor who built his own sails. He had placed well in the last Australian Tornado champs with his own design, and sent us all information about his Tornado sail-designs.You got to love the Internet! We made some allowances for our generally weaker winds, mast bend characteristics and crew weight, and presto, a computer model for a new mainsail!
We did not start on this project as complete novices, we had assembled a couple of sail-kits from Sailrite earlier and even cut and built our own asymmetric spinnaker some years ago (the spinnaker came out horribly, the cloth was not stiff enough so it lost shape in any kind of wind).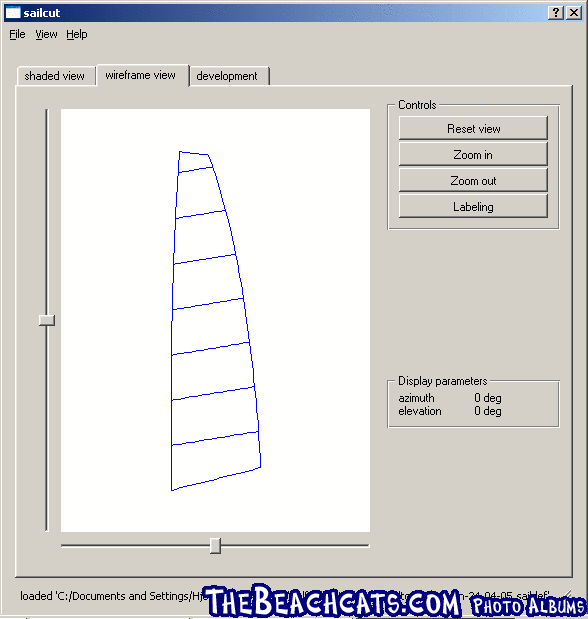 The software we used to visualize the design, Sailcut, is open-source software freely available on the Internet. Sailcut can produce a list of X-Y coordinates for plotting and cutting sail panels by hand if you don't have a plotter/cutter available. We would be hand plotting/cutting, like sailmakers have done for hundreds, if not thousands, of years. With hand plotting/cutting, the easiest panel layout to do is crosscut. Cutting radial panels by hand are far to much work and quite difficult to boot. Some sailmakers are willing to both sell you cloth and cut it to your design if you ask (and pay a bit) for it. Check what software they use so you are sure they don't have to re-work your design. A nice sailmaker will also sell you thread and other materials you need like webbing etc.
We were very lucky to have Contender launch their Maxx cloth on the market just as we were looking for a suitable material to construct the sail from. The Maxx cloth is a laminate made especially for cross-cut sail building, with fibres running not only 90 degrees on each other, but also diagonally at approximately 70 degrees. This fibre layout will take and transfer loads working in different directions within a high aspect-ratio catamaran sail. We did some background checks on the cloth, and found only good references on the cloth. Based on this we ordered Maxx Pen09 cloth for one mainsail and two jibs. The Tornado class limits what cloths you can use in sails, and the Maxx Pen09 was the only legal Maxx cloth.
Plotting and cutting panels was easy work, but a bit tedious. We had a 90 degrees angle made in steel, with arms 120cm (4 feet) long, as long as our cloth-width. We taped a measuring tape to the arms and our large cutting-table, something that speed up manual plotting a great deal. It's generally not necessary to plot all the points, a subset is enough if you concentrate them in the area with most curve and use a long batten to connect all points. Plotting and cutting all panels for our mainsail was done in about 5 evenings.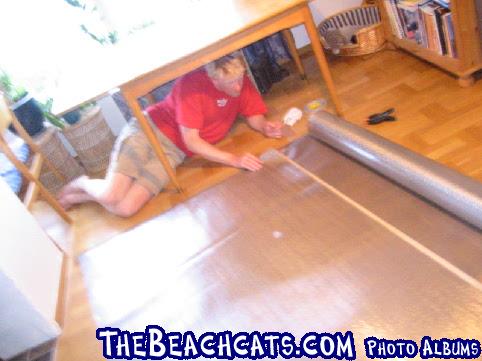 When assembling a sail, it's common practice to use a "basting-tape". A tape with glue on both sides, that keeps all panels in position while stitching then together. We found a 25mm (1 inch) wide basting-tape supposedly able to hold a small sail together without stitching which we used. However, being suspicious about all marketing, we decided to stitch all seams as well. All seams were duly stitched with two rows of triple-stage zigzag seams. Contender recommends one millimeter of panel overlap for every foot boat length (a curious mix of metric and imperial measurements). A 20 foot Tornado generate quite a lot more righting moment then a 20 foot dinghy or keelboat, so we judged 25mm to be a good seam width but could have gone for 50mm to be sure. Laminate cloth are very susceptible to seams ripping the cloth apart if the overlap area is to small.
To further strengthen panel joints, we installed batten pockets with glue and seams on top of the joints. So far the joints have held up well, with no slipping seams (which will make a cross-cut sail very flat and unusable). The head, luff, clew and tacks were reinforced with two more layers of cloth, but additional layers of cloth would have been better. Instead of installing separate batten pockets, we could have made e.g. 75Mm (3 inch) wide panel-overlaps, installed 2x25mm glue/seams and used the pocket between seam lines as batten pockets.
Instead of installing Dacron luff tapes around the edges, we folded all edges double and stitched them. A strong and cheap solution (i did mention that this was done on a budget earlier). The luff rope was stretched a bit too hard when we installed it, which meant that we had to use too much downhaul to smooth the sail when beating. To correct this, we installed a new luff-rope in ten minutes just before a distance race two weeks ago. We also made class insignia and sailnumbers by cutting spi-tape with scissors at the same regatta. Telltales are just woolen thread taped in position with a small patch of spi-tape.
We used two grommets in this sail, one for downhaul and one for the halyard. All grommets were reinforced by a piece of webbing to better transfer forces to the sail and stop the grommet from ripping out of the laminate cloth. The grommet in the head was a bit light, so we put a small shackle trough the web-loop to take the loads from the halyard-ring instead of loading up the grommet. The boom is attached solely to a 50mm wide webbing loop, no grommet there.
All assembly and finishing was done with a domestic sewing machine. The Maxx cloth is very light to sew in, so this machine did a good enough job even if the stitches was a bit close between. Having a triple-stage zigzag seam on the machine helps a lot, but regular zigzag is also quite usable. You just need to sew additional seam lines to achieve the same strength.
The sail has seen some months use by now, and we are very pleased so far. It is able to go higher into the wind, produces more power and most importantly, pulls us forward instead of sideways. To bad our old jib is unable to keep up with it, but we are working on a jib just now. The first outing gave us a surprise, as this sail is quite a bit more powerful than our old one. After 200 meters of jib-reaching, we did an instant pitchpole. Our first pitchpole and great fun for the spectators on the beach close by..
It remains to see how this sail will keep up over time, as we suspect that the Pen09 cloth is a bit light for a Tornado mainsail. We are very pleased with light wind and high wind behavior, but will have to study it in medium wind conditions a bit more. Time and use will tell..
One of Norway's former Olympic representatives in the Tornado class had a look on the sail without much to comment on. Our old sails he thought were just awful. "Put them on the garbage heap, and while you are there find a discarded tarpaulin, cut the tarp to shape and hoist it instead." That would give better performance than our old sails in his opinion. A very clear and to the point evaluation..
We have finalized a jib design just now, and are busy cutting panels for it. It really opens your eyes for sail shapes when you sit down and try putting what you want into your own sail-design. You become much more critical to the flying shape and what you want as you are view it with a different eye. It's also a great and fun experience to build your own sails, while making the largest maintenance expense-account on a sailboat within reach for even a low-budget team.
A big thank you to my mother-in-law, who lent us her three stage zigzag sewing machine. :-)
Some useful links:
http://www.sailrite.com
http://www.sailcut.com
http://groups.yahoo.com/group/saildesign/
http://groups.yahoo.com/group/TornadoCat/
More articles in category Do-It-Yourself & Upgrades