News
Do-It-Yourself
|
Upgrades
Do-It-Yourself: Adding Wings to the Hobie 14 Catamaran
I put this little beastie together when my first Hobie 17 tore itself apart . After 12 years sailing Hobie 17 catamarans and being quite partial to the comfort and mechanical advantage of trapezing from a wing, returning to a Hobie 14 while my 17 insurers decided what to do with me (and I had sailed Hobie 14's from 1972 to 1987) was going to be quite a letdown .
Not so, as this is only recreational sailing (there isn't any 14 competition in Western Australia any more), I could put wings on a Hobie 14 catamaran and go like a striped ape! That is indeed how she performed, with a VMG to windward far better than the local Hobie 16 catamarans.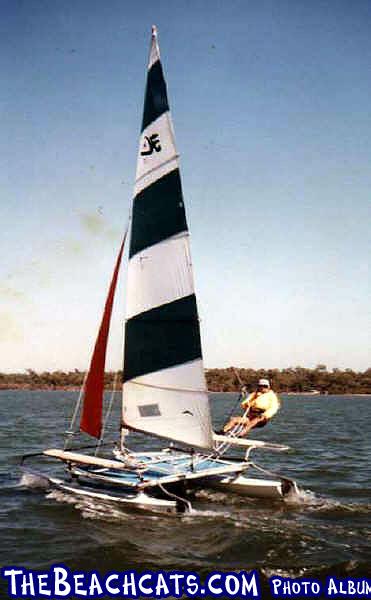 Fifteen years of sitting in a little pool of water water formed by the indent of your bodyweight on a Hobie 14 trampoline just vanished after I had fitted this modification . If the Hobie Cat Company followed this lead , they could " reinvent " the Hobie 14 ( and also the 16 ) . It was just pure satisfaction to me to take on the bigger cats and at the end of the journey be able to say "where'd you guy's get to ?"
Inspect a Hobie 14 ( and for that matter a 16 ) and you will find a part of the cross beams just immediately inboard of the corner castings that can accept a " U " strap from underneath past an open piece of trampoline that can be bolted to the inboard end of a wing frame that will allow it to rotate up and over the center of the trampoline for trailering home . all that is left is to secure the frame downwards once it is folded out in the sailing position . This is achieved by strapping the rising wing beam down to the pylon bolt ( or ring attached to ) with some light lanyard . I have a file of working drawings of the whole wing assembly that is available to anyone who wants it . All I ask for this information is to be given written credit on the wing that the idea came from Barry Sanders in Western Australia .
These mods are only a precaution and may not be required unless ( like me ) you wish to extract every ounce of extra performance that the wing can offer . Firstly add a rod " dolphin striker " like is fitted to the 16 ( and indeed the cross beams and corner castings of the 14 are the same as the 16 ) , so a 16 " dolphin striker " will fit if the appropriate holes are drilled in the corner casting flanges . secondly I fabricated and fitted a spreader bar to the bows ( the 17 sport has one as standard for the same reason ) so that more can be extracted from the rig . I added another bar between the chain-plates ( to prevent side-rail compression ) as all long term 14 skippers ( including me ) have experienced side-rail failure . This also allowed me to mount a jib block track so I can widen the jib slot when reaching .
I've had so much response to the wing on my " very quick Hobie 14 " that I decided to publish the plans . I'm quite happy for people to build one offs from these plans and ask only that written credit for the innovation be prominently attached to each wing stating that the design came from Barry Sanders in Pinjarra , Western Australia . Please read the descriptions found with the photos on the previous page , especially the modifications to strengthen the boat.
Anybody who attaches such apparatus to a catamaran of any description does so at their own risk as these boats were never designed to accept the extra loading that the extra leverage will produce .
Link to Hobie 14 Wings by Barry Sanders Photos
Barry Sanders
Pinjarra, Western Australia
Official Correspondent, TheBeachcats.com

More articles in category Do-It-Yourself & Upgrades