News
Press Release
|
Beachcat Regattas
Press Release: Olympic Mixed Multihull Nacra 17 Day One
Mixed Multihull – Nacra 17, 2016 Olympics
Matias Buhler and Nathalie Brugger (SUI) emerged top of the rankings after two whacky opening races for the Nacra 17 on the notoriously tricky Pão de Açucar (Sugarloaf Mountain) race course. The Swiss are on equal points with Ben Saxton and Nicola Groves (GBR), with Santiago Lange and Cecilia Carranza Saroli (ARG) holding third overall.
With the fleet starting in 10 knots of breeze, the Mixed Multihull fleet shot up the track. But, the breeze was all over the place and no lead was ever safe. The Swiss emerged at the front at one point, only to be swallowed up by the pack at the halfway stage. But then Buhler and Brugger found their way through to the front once more, only to see their 200 metre lead disappear in the dying moments of the final leg. The fleet was closing fast and the top six boats all crossed the finish line within five seconds of each other. The Swiss beat Singapore by a whisker.
"A really tricky day," said Brugger. "Difficult with very shifty and gusty winds, so we had to improvise and keep the eyes open. We had some hard moments back in the fleet but we were always fighting and had a really good team spirit."
Justin Liu (SIN) didn't even know how well he'd done until he came ashore. "That photo finish, we've no idea how we did, where did we finish?" he asked the press, delighted to discover he and crew Denise Lim had finished second. "The wind was everywhere, super crazy, we were near the back at one point, but we fought our way back." Even with a 16th in the next race, the Singaporeans lie in eighth overall.
The British were consistent with scores of 3,5. Saxton was smiling but still not that sure about the secret to success other than, "Give it a go, do your best and hopefully by the end of six legs it will be good enough.
The four-time World Champions Billy Besson and Marie Riou (FRA) had a worrying first day and sit in 17th place in the 20-boat fleet. Besson is carrying a severe long-term back injury and is struggling even to walk any distance, so one can only imagine the pain he is suffering to compete on board the athletic Nacra 17.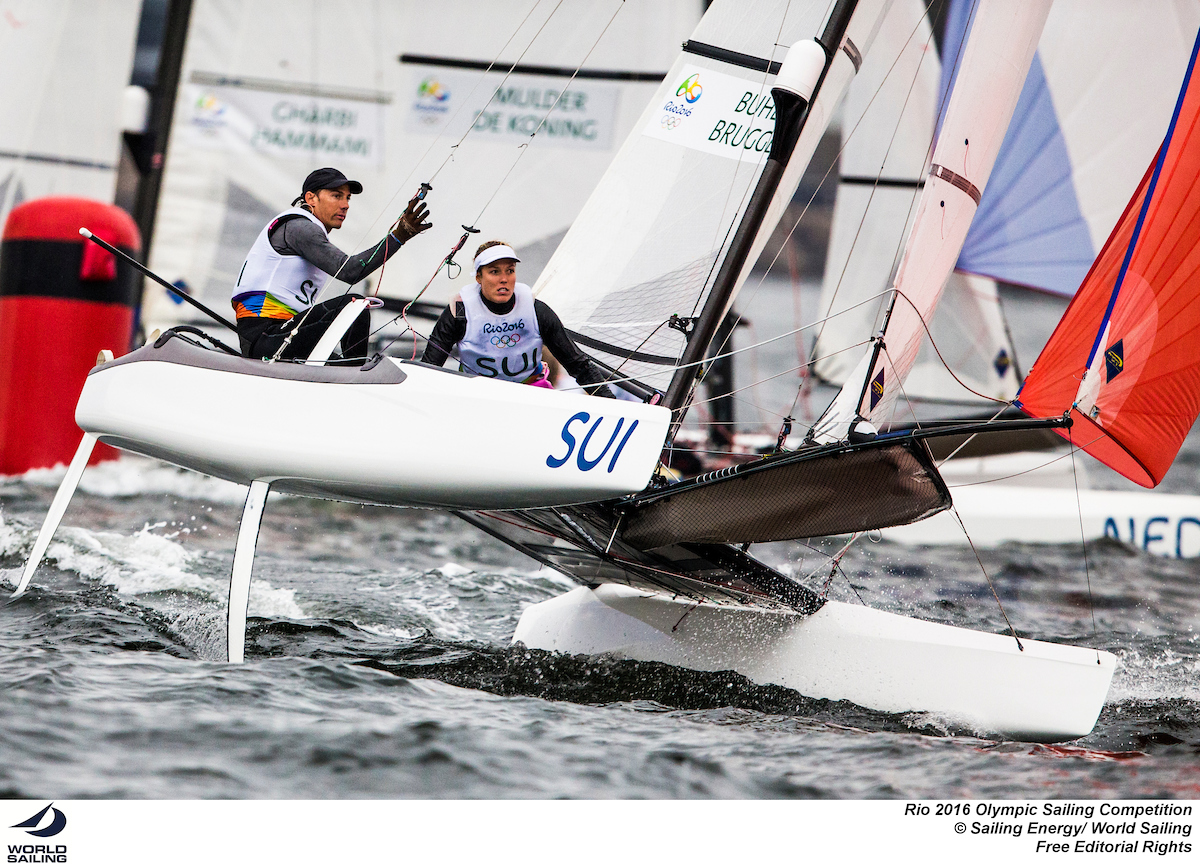 More articles in category Press Release & Beachcat Regattas