Hi guys,
I'm psyched over the top to be the new owner of a 1998 P18-2, and am putting up my first post here to say hi and thanks to the forum owner and contributors. This forum has been a big help to me already.
Here's a pic of the boat: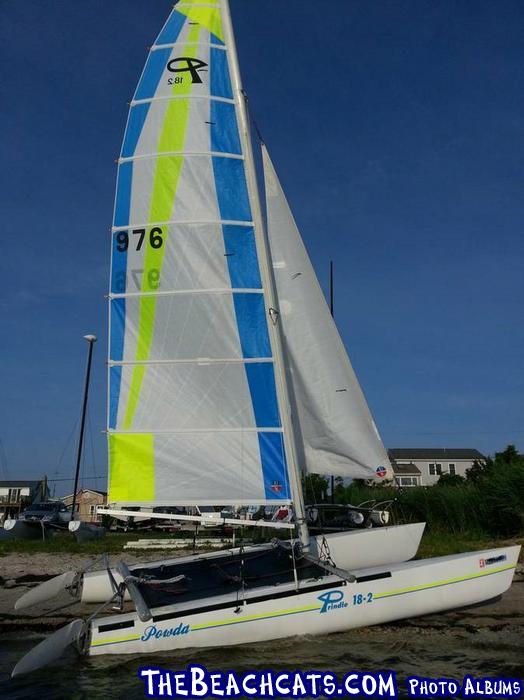 And here's a video of a prior owner sailing it in high winds in the Barnegat Bay, NJ. Man this thing moves!
https://www.youtube.com/watch?v=SlEbMYx3YI0
I have not previously been a beachcat (or any sailboat) owner. My background is sailing a sunfish as a kid (taught by my Dad, forever grateful, RIP), and later I rented P16s and sailed them pretty hard. So I got to like Prindles. But that was 25-30 years ago -- til last summer I rented a Hobie Wave, which was great, and I got the bug to get something.
So this winter I started looking and immediately saw a good-looking P18-2 for sale on craigslist only an hour from me. I had no idea what a P18-2 was, except I knew Prindle. So I found this forum, where I found all these great reviews and info about it. You guys said it's based on the Tornado design, so it's a good design that really moves, but the retractable centerboards would be great for shallow water sailing, which is what we've got here in the Barnegat.
You guys also said if it's your first boat you should buy what's near you that seems to be in good condition.
So I took all that to heart and figured I was looking at a great opportunity that I'd better jump on. I think I got a great deal from a really nice seller, who's a very experienced beachcat sailor.
I realize this is a step up from what I've sailed before, but that's a big part of the excitement. My brother and I are no longer spring chickens, that's for sure, but we're still pretty athletic and pretty sure we're up for the challenge. Also, I have a friend who's a very experienced non-cat sailor and is ready to go too.
The boat's in really good shape, I think, but it's still not new, and I've got a few questions I'd like to post up.
But for now,
thanks for the help guys!
Will
NJ
--
1998 P18.2
Sailing out of SHBCC, NJ
--