News
Regatta Notices
|
Announcements
Regatta Notices: Florida 300 Early Registration Ends March 1st.
Florida 300 Distance Race – Starts May 17 with 5 days of racing ending on Saturday, May 22, 2016. Party to Follow!
Early Registration Ends March 1, 2016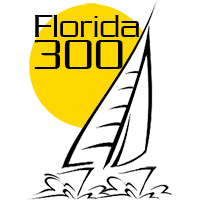 This year's Florida 300 is going to be the best ever with an extra day of racing and the finish line at Daytona Beach. Lots of details to come, but we already have more sponsorship in hand than ever before and a big beach party at the Ocean Deck near the finish line on Sunday following the race.
Many of you have read about events like the Worrell 1000, Tybee 500, Great Texas, or the Hogs Breath. These challenges give a beachcat sailor a chance to do something few accomplish by pushing themselves and their boat to sail hundreds of miles with a bunch of like minded (crazy) sailors.
If you have the boat, and basic skills like surf launching and landing, why not give yourself this opportunity? If you are ever going to do a major distance race the Florida 300 stands out as a "doable" event. Five days of racing with reasonable leg lengths from 60 to 80 miles and each finish line is right in front of your hotel! Couldn't be better, so come along and join us for the 2016 Florida 300 and save $55 by getting your registration in by March 1st.
To get your early registration in or ask any questions please contact any of the Sail Series Promotions board member on the Contact the Florida300.com organizers.
More articles in category Regatta Notices & Announcements