I'd like to thank everyone who commented on my last post, y'all are immensely helpful.
I've run into a new batch of issues that I lack the wisdom to resolve.
First, I need to drive this thing 8 hours down to Houston and the rubber rollers have become stone rollers.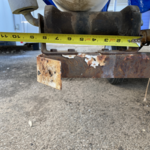 I worry that the hulls will not survive a long trip on these things, even if I add some cushioning.
I plan to replace them, but I want to do it in the most logical way possible for such a long drive. I recently joined my college's sailing club and at their facility is a Hobie 16 sitting on four bow stops instead of rollers.
The point of contact for the bow stop is much larger than the rollers which should be easier on the hulls. The only issue would be getting it off the trailer, but it's not a heavy boat.
Has anyone done this? Is this a viable option, or am I losing my mind?
also, any advice for conquering such a long journey with a 41yr old boat and a stickshift jeep would be appreciated!
Once again, apologies for not knowing what the hell I'm talking about and thank you in advance for your help.