Do you think the will work the block can swivel. I don't know if that would effect the rolling up of the sail.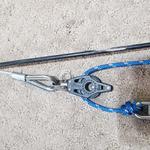 I got caught in a storm (35 mph gust) yesterday and could not get the jib down or roll it in. Sadly, the jib got torn because it was beating against the mast and spreaders I think. Also, you can see the damage to the forestay cover where something was rubbing against it while trying to rotate the forestay with the rope attached to the lower swivel drum. Can this cover be repaired with tape?
The pig tail does not seem ideal, but it is what I got.
Sometimes it works perfectly and sometimes the sail does not roll up smoothly.