Is this the correct way to connect the dog bone to the trapeze wire? I have seen some picture with the pulley actually connected into the trapeze loop instead of a shackle.
I assume the bowline at the end of the rope is supposed to be hooked to the shock cord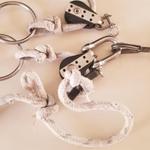 Anyone have a link to a good photo showing the proper setup. Is the pulley even needed?