I don't know if this is common practice, but it worked so well, I thought I'd share it. Had to cut access into the side of my H21SE to repair a shattered wing socket. So, got a compass, drew an 8 inch circle (in case I opted to go back with a screw in port), took a deep breath and drilled a hole on the line big enough to get a scroll saw blade in there.
Cut out circle and, wow! seeing the cut-out in cross section and handling the piece of the hull, I can honestly say the thing is made TOUGH! Cool. Repaired wing socket and then when it was time to close the hole up again, I took some carbon fiber tape, about 12 inches long and laid it out on some mylar (epoxy won't stick to mylar). Wet it out, pressed it flat and let it kick. Have 2 12 inch, tough strips for backing to hold the circle in place when I epoxy it back.
Next, I took a rifling file; any round rasp would likely work, and filed out just a bit of the foam from the cut-out and from the edge of the hole in the hull, all the way around. I glued the carbon strips in place on the inside, holding them with C-clamps. Let that set up. Test fit cut-out and ensure I can hold on there flat, with some pressure. Then, I thickened up some epoxy with milled fiberglass and colloidal silica to about peanut butter consistency, A bead all the way around the cut out and all the way around the hole and on the carbon. Stick cut-out back in place, exactly, use REAL aluminum tape (not duct tape), and tape angle across hole to ensure it's dead flat to hull. I practiced this before attempting with epoxy. Worked AWESOME! VERY strong; no hint of flex, etc. when you pound on hull, etc.
My theory goes: I wanted to secure the circle cut-out back, using rounded edges, filling the saw kerf and getting at least a fiberglass layer's worth of epoxy between the hull and the cut-out inside the foam area. Basically, when set the epoxy forms a circular bead like an O-ring around the cut-out and between it and the hull. Not only was it strong, but I had very little fairing work to do. Basically, sand and will epoxy prime this afternoon. No filler really needed at all (e.g. like Bondo).
Will attach image showing in just a bit what I mean. Love it when something goes right.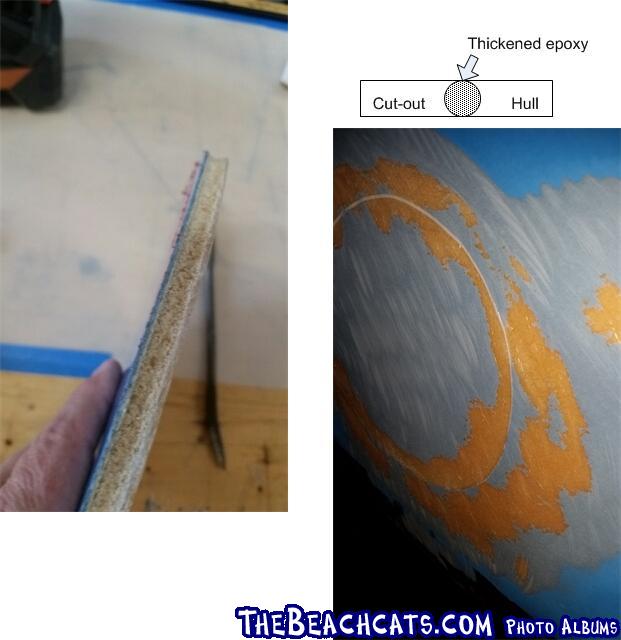 Edited by charlescarlis on May 15, 2019 - 11:49 AM.
--
Chuck C.
H21SE 408
--