Few Saturdays ago I was checking Craigslist to see what was what was up for sale… I had no intention of buying a boat or anything, but this one ad popped up that had "buy me" written all over it…..
"1991 Prindle 18-2 $200 title and registration out of date needs TLC…"
After the knee jerk and talking to the owner I was getting the impression that the boat was way out of shape, but what the hey for $200…. the centerboards, beach wheel, and an running rigging Harken gear were worth the price of admission so that next morning off on the 101 freeway I went… When I got to the owners house I was rather surprised that the boat was covered with that "el cheapo" cover from Murray's Marine.. albeit beat up and tattered but still covered… Upon the initial inspection boat was not in that bad a shape that is there were no soft spots, the mainsail looked relatively new, that trailer was galvanized with new wheels and lights. The hulls were chalky, and the bottom… well there were no holes so we're still ahead of the game… the centerboards and rudder were about 99% free of nicks and scrapes…. Considering the bottom of the boat I was expecting worse but not the case… Everything was there with the exception of the jib sail… which the owner thought may be in his storage locker at the local U- Stor It…. Turned out later it wasn't…. I have some Classic 18 jibs to hold me over until a new one can be ordered..
Needless to say... two little green pieces of paper with a picture of a cagey old Quaker inventor on them changed hands real quick… Hooked up to the Toyota it was back to Ventura we go with what is now my third Prindle 18-2. Got her home and started the dismantling and quick scrub down and she was really not looking that bad… little tired, little scarred but not looking that bad…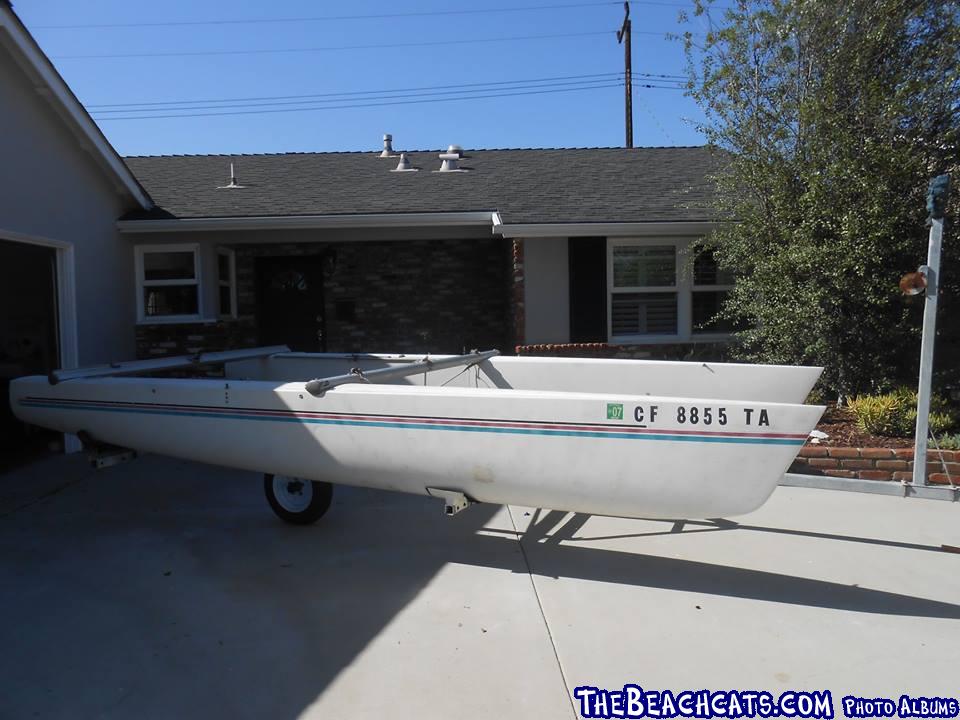 Phase I
Figuring I have the boat torn apart and I am looking at a complete refit of the standing/running rigging and tramp I thought is best to curve my OCD but more so the Mickey Mouse repairs done to the bottom of the boat and get it done right before she gets back in the water...
Starboard Hull Bottom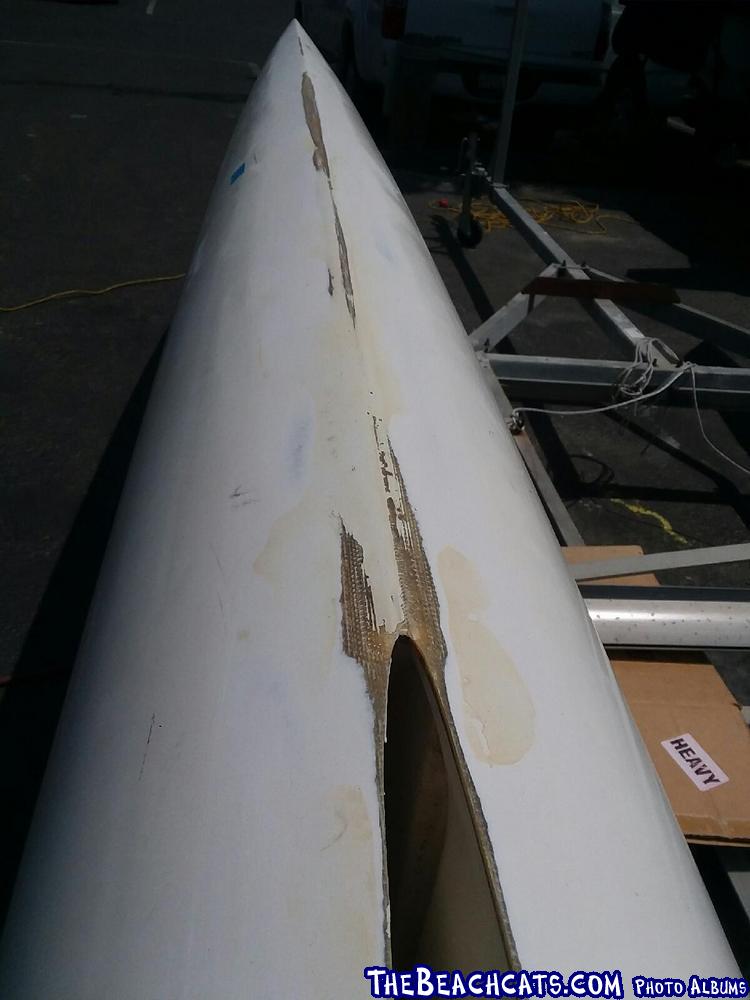 Port Hull Bottom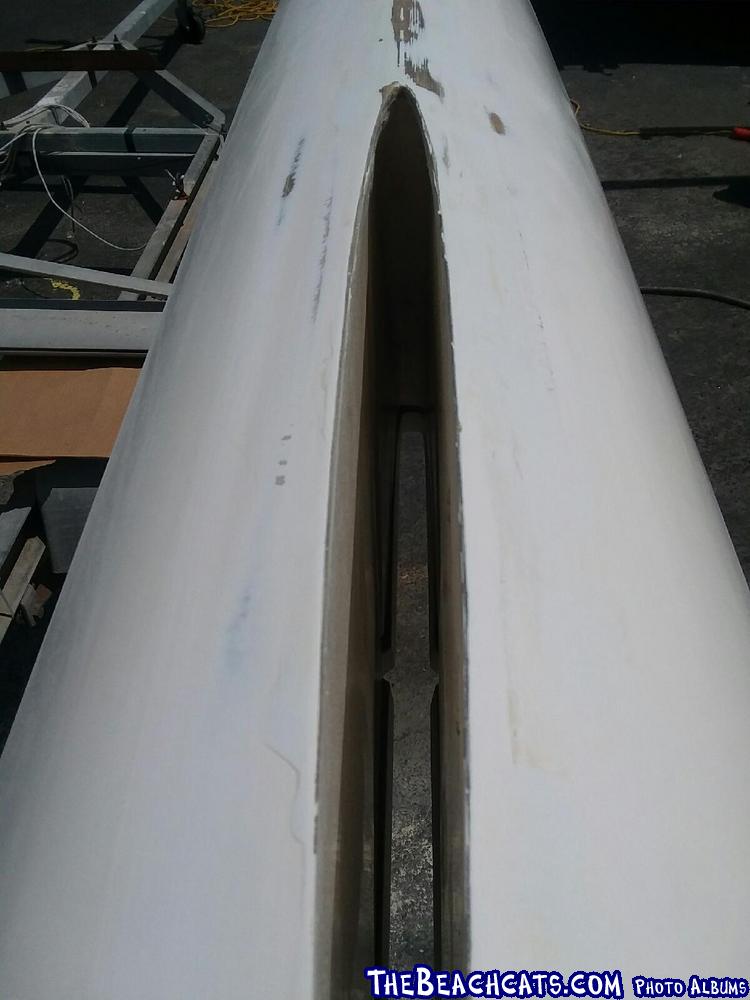 For those of you in Southern CA there is a gent that worked for Performance Catamarans... aka NACRA and Prindle building and repairing these boats for many years… Jesus Morales… some of you folks at MBYC may know Jesus, but if you need some work done, and you don't have or want to take the time he is the guy for the job… Jesus did some work on the Inter 20 I bought a few years back and you had to look real hard to see where the work was done… Let me know and I'll send you his information.
You saw the before…. Here are the after pics…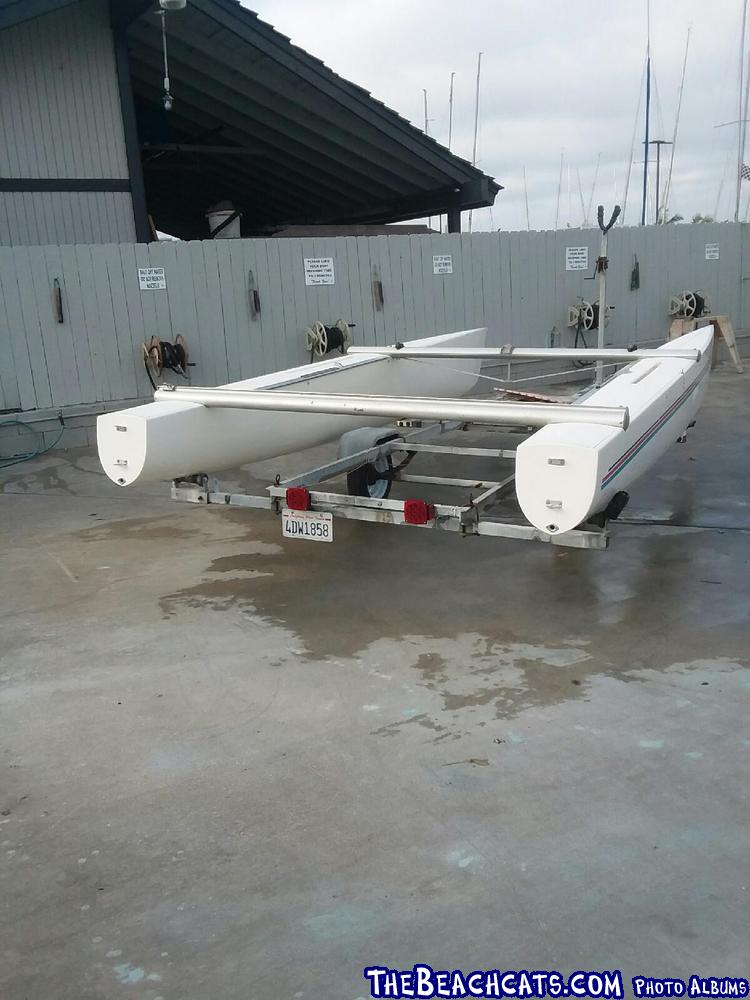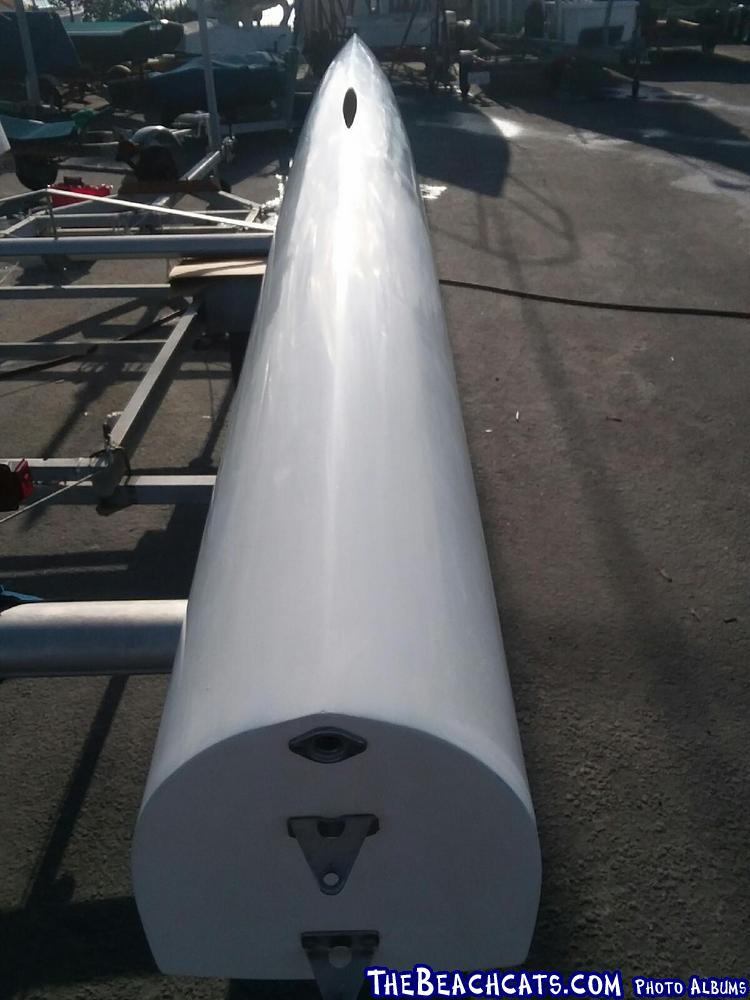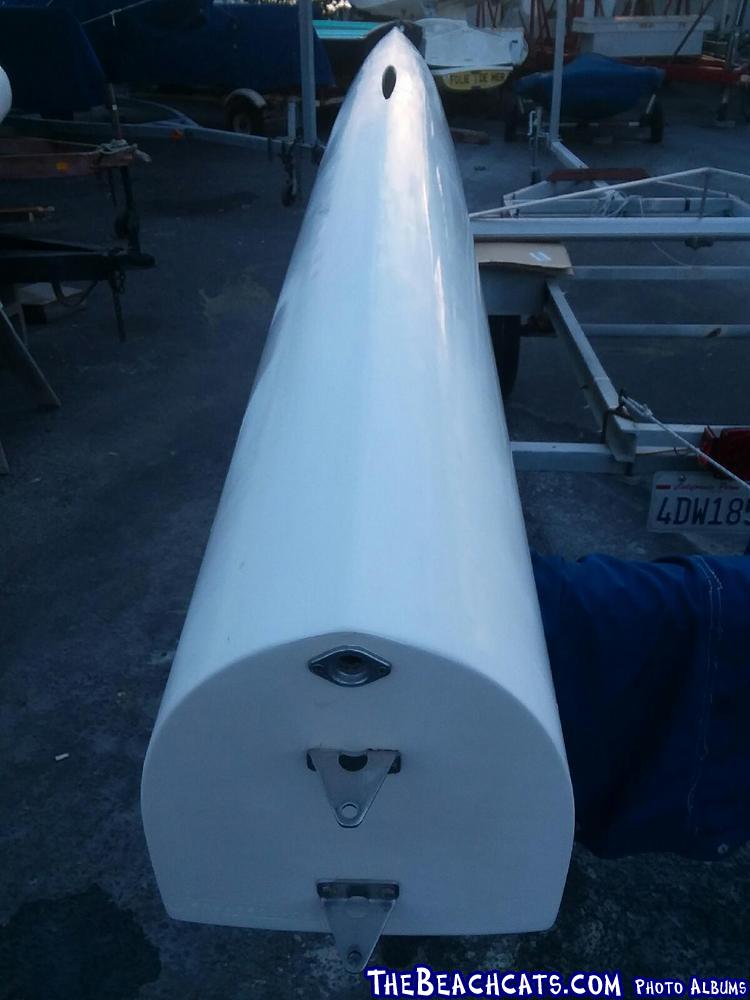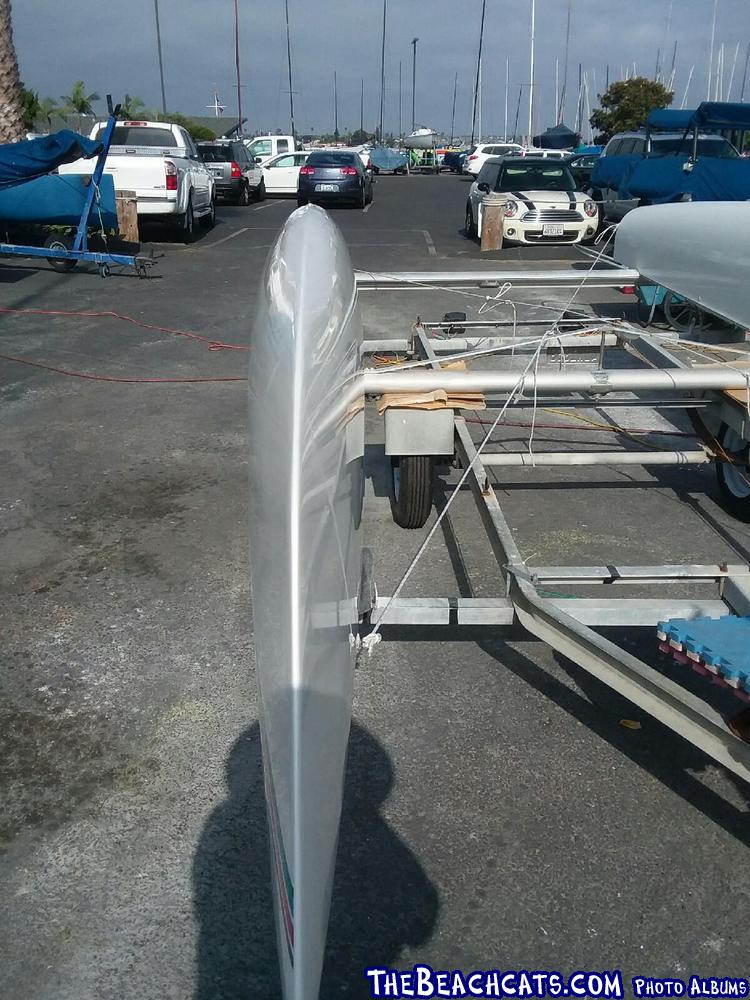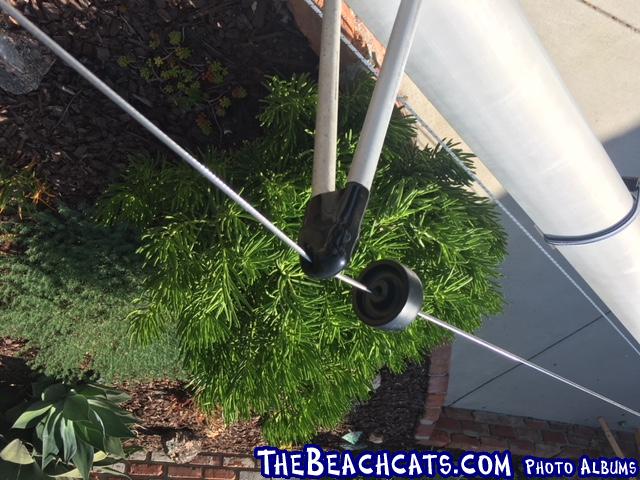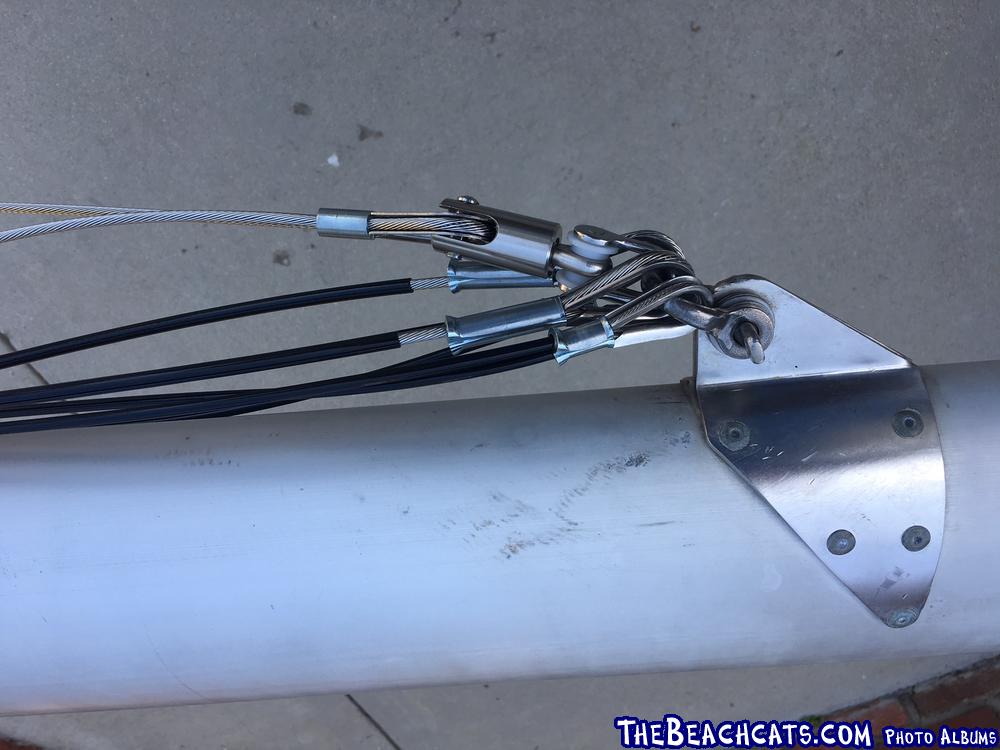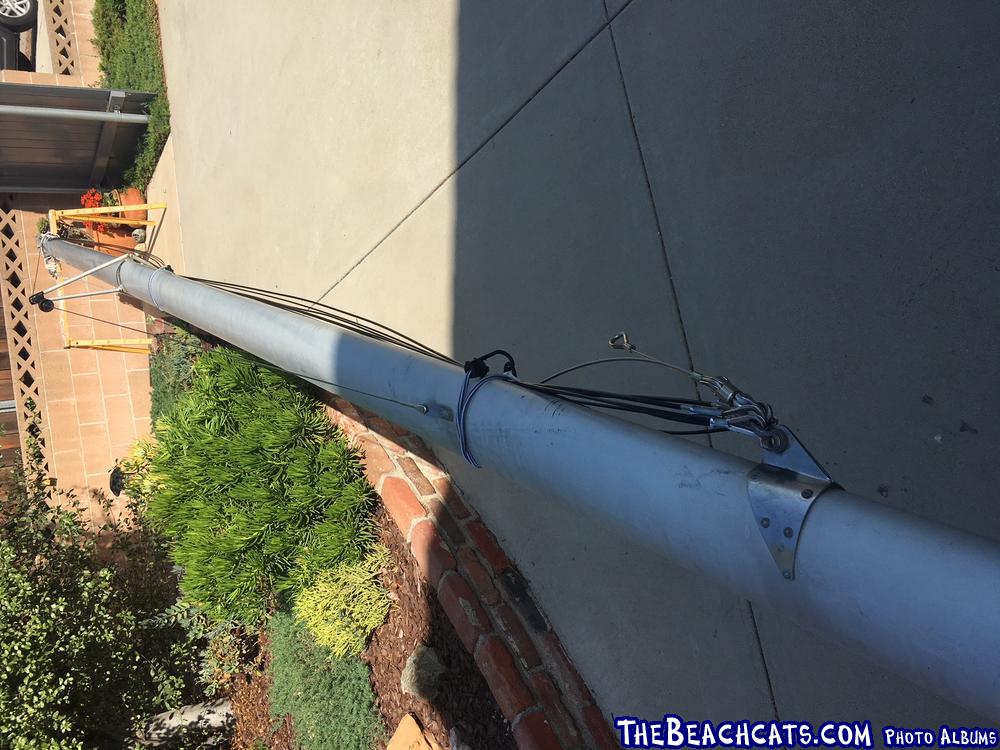 But, what is a rebuild with out all new standing rigging... the stuff that was on there was still a little shinny looking and the owner told me it was sort of new when he parked the boat 10 years earlier; however, it had been sitting for the past ten years… I could have taken a chance, but why risk it… with Murray's a 15 minute drive up the road and a long 3 martini Friday lunch… new rigging was in order… YEIKS….. This is more that 4X what I paid for the boat… but the worth the peace of mind… and it does look pretty... And I at least I now have a starting point.
The new tramp arrived today and I pick the hulls up this weekend and start on Phase II putting it all back together… more to come…
Edited by JohnES on Sep 06, 2018 - 12:31 AM.
--
John Schwartz
Ventura, CA
--