News » Editorial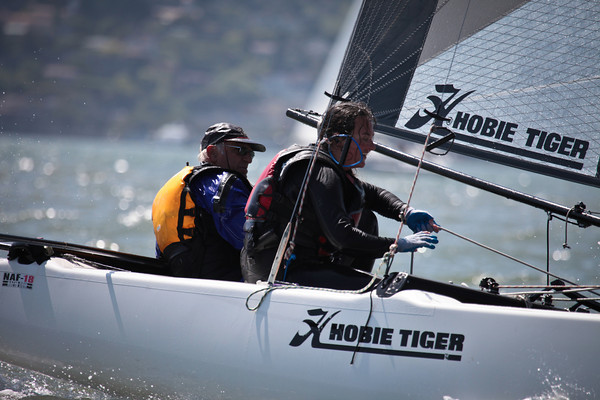 Let's face it, sailing is a male dominated endeavor. The America's Cup, the supposed pinnacle of sailing, has nary one female to be found racing; something I'd personally like to see change. With the Nacra 17 being chosen as the multihull for the next Olympic cycle, and the requirement for it to be sailed with a mixed male/female crew, it's definitely a step in the right direction. Last weekend the F18 fleet in The Bay had two female sailing rock stars join the racing out of the San Francisco Yacht Club. Our good friend Phillip Meredith, who has been racing F18s for almost a decade, weighs in.

It is something you don't see often enough in our local F18 races. Women racers.
We know the San Francisco Bay Area has a depth of talented racers, both male and female. It is the latter that always seem in short supply at the races. So it was a great boost to the SFF18 fleet to have a couple of really talented women join in the fun at this year's San Francisco 18 Foot regatta hosted by the San Francisco Yacht Club.
Long time Bay Area Sailor Jody McCormack, who will generally sail on anything, but usually sails on the 18 Foot Skiffs, helped to rocket one of the class stalwarts to a second place finish in race 4. When Jody got off the water, she was all smiles, and obviously excited about sailing the F18, "I was originally going to help with race committee for the F18s, and one of the crew became ill. It was 10 am, the same time as the skipper's meeting, and I was asked to crew. I got in my car, went home, and got my skiff gear.