Today sucked main halyard broke just after unloading and rigging the boat on a beutiful day. The sail was all almost to the top and I pulled the line on more time to secure the ball under the toe and it broke right at the ball.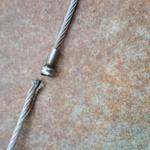 How can this be fixed? Do I need to buy a new halyard and ball can this be fixed easily?
I am starting to hate wire halyard and do not understand why they are used. I have gotten rid of the wire jib halyard and wish I could to the same with main halyard, but it has to hook under the toe at the top of the mast.