So, with a north east wind dropping from about 7-8ish down to something like 5, I didn't think it would be more than just a bit of fun and a long day.
It WAS a long day (about 5 hours on the water around the island)... The people were way more fun than anticipated, and my primary goal of learning was more than met by my partner. He barked at me the whole time (which for me is PERFECT; I'm kind of thick).
But, then at the end - with about 30 minutes left the finish line just in sight in the distance, multiple boats converging and man did the wind pick up! Probably due to the close-by thunderstorm... We got lucky and were on a good side of the course. Now, we start cooking, and then more wind, now flying a hull and then driving that sucker HARD. Somehow, with all the boats scattered across one side of the bay - it seemed like 5-8 (or more) of them came screaming to the line at once. Some weren't as lucky and had to drop out (we were under 5 a lot). May not have placed, but man you couldn't wipe the smile off my face for 2 days!
Notes on pic: 1) something's wrong with the coordination of my Garmin and Google Maps GPS... 2) Note average speed was like 4 kts, but max. was 24.2... That's just right about where my heart rate peaked at 154 (resting I'm around 65-70). I may be new and drinking up the knowledge where I can, but I can sure appreciate that kind of story book ending!
Then, the guys (Roger, Chris, Scott, wives and others-sorry still getting to know people) threw down some awesome food! The barbecue yard bird was especially tasty. A few cold barley pops... These guys at the TCDYC can put on an event. All while safely social distancing in a healthy breeze. Wish I could have stayed longer...
ps - A big thanks to Pete - that finish was a proper birthday present!
Thanks guys!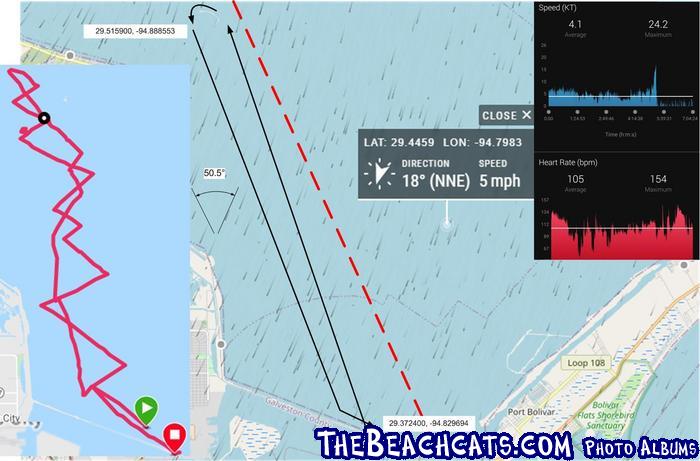 Edited by charlescarlis on Sep 14, 2020 - 03:55 PM.
--
Chuck C.
H21SE 408
--