News
Reporting
|
Beach Access for Beachcats
Reporting: Catamaran Sailing at Hobie Beach, Oxnard, CA, needs your help.
A local group of dedicated catamaran sailors in California are attempting to "Fight City Hall". They want to reverse years of declining public beach access in California for sailing beach catamarans from the beach as they were designed. Located only about 100 miles from the birthplace of the Hobie Cat Company, catamaran sailing in the Channel Islands Harbor area was once so common that "Hobie Beach" is the official name of the public beach in question.




You would think that sailing catamarans from a beach named "Hobie Beach" would not be a problem, but these sailors need your help. Read about the efforts of the CICDA (Channel Islands Catamaran and Dinghy Association) to regain sanctioned beach access at Hobie Beach.
The Saga of Hobie Beach:
There is a beach in Ventura County, California that has been officially named Hobie Beach. The beach earned it's name for the obvious reason to the fact that this is where many of the locals and visitors launched and retrieved their catamarans and enjoyed the pleasures and the challenges of "blue water" catamaran sailing in the Santa Barbara Channel.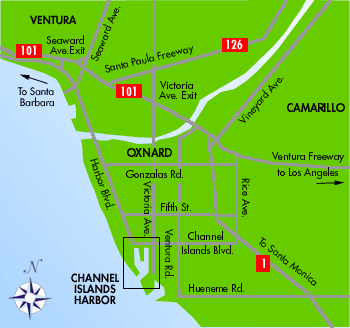 What has made this spot popular with sailors is not only the ideal sailing conditions of the Santa Barbara Channel and protected "no-fee" launching, but also the family beach outing atmosphere this area has provided. With that there are also the conveniences of, restaurants, groceries, sailing/beach accessories, and spare parts all with-in walking distance to Hobie Beach.
Recently, this are was made inhospitable to launching catamarans and other fiberglass boats due to the fact that Ventura County had placed large boulders across the beach to arrest the erosion that has taken place since the El Ninio Storms. At the time of this decision it was the logical thing to due the facts that; it was the easiest, quickest, and cheapest way to solve the problem, this is not the intended use from the Army Corp of Engineers when Channel Islands Harbor was designed and built, and (I think we are all in agreement here) there has noticeable decline in the use of Hobie Beach from catamaran sailors.
Needless to say Hobie Beach; as with a lot of other areas, was "On Borrowed Time"
As they say "life is full of compromises" and Ventura County and Channel Island Harbor Patrol is willing to work with
CICDA
to make Hobie Beach accessible again. With in the next few days the Channel Island Harbor Patrol is going to work at removing some of the boulders to make a "path/ramp" to accommodate wheeling catamarans to the waters edge for launching and retrieving. Taking a small step we have made a large stride to revitalizing and beach that could have been lost forever.
Now we have a beachhead; and for us to gain further improvements, we need to show the county and harbor officials that this is viable recreation area and a plus to the local economy.
SIMPLY PUT WE GOT TO USE IT OR WERE GOING TO LOSE IT.
To make a little pitch here are some facts on Hobie Beach:


Easy and direct to get to from the 101/Ventura freeway and Pacific Coast Highway.
FREE - that's right FREE launching and parking. For those that don't understand this concept that means it is not going to cost you anything.
Direct shot out of the harbor to the Santa Barbara Channel & The Channel Islands.
Awesome "Blue Water" sailing conditions July through October & February through April.
Outer Breakwater and sheltered area for "kiddy sailing".
Permanent Triangular Race Course for practice, bragging rights or serious racing.
Taco Stands, Coffee Shops, Burger Joints, Beach/Surf Emporiums, and Mini Market all with in walking distance.
West Marine, Beacon Marine etc. close by.
For those that can make and I hope there are a lot, we are planning for a Fun Beach/Sailing Day on August 30 to reopen Hobie Beach. Hope to see you there.
More articles in category Reporting & Beach Access for Beachcats