News
Regatta Notices
|
Beachcat Regattas
Regatta Notices: Catfight V - Lake Michigan Catamaran Regatta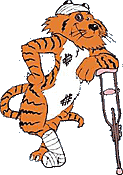 The Catamaran Racing Association of Michigan is proud to announce it's fifth year of sponsoring the Catfight race at Muskegon State Park – Muskegon, MI, August 19-22, 2004.
Join us for three existing days of extreme catamaran racing & sailing with sailors and boats from all over the United States! The event is held in conjunction with Mount Gay Rum, The Cat House, Animal Cancer & Imaging Center & American Rental, Inc. It's a Mount Gay Rum Beach Party! Members of the media are invited to attend our parties Friday & Saturday night!
Races start on Friday morning and continue through Sunday. Race courses are set with windward to leeward buoy marks. The racing heats are set by boat classes & boat size. All catamaran manufacturer's & sailors are welcome and encouraged to participate; Nacra, Hobie, Prindle, and others. Trophies are awarded to top three positions in each boat class. Scoring is to Portsmouth Wind USSA Wind Velocity System & Formula Classes standards.
Race Committee boat "ride along" arrangements for professional media photographers may be available during the race or a ride along with a high-speed catamaran before or after the race for a "personal view" of these high-performance machines!
For additional information and media passes please contact:
Mr. Ed Cunningham
Catamaran Racing Assoc. Of Michigan
Email: ed.cunningham@delphi.com
More articles in category Regatta Notices & Beachcat Regattas