Catamaran Sailing
Catamaran Pictures
Catamaran Sailing T-Shirts

OTW T Shirts

Help keep On The Wire online and free by purchasing one of our nifty T Shirts. We now have 2 versions available, our Anti-PWC shirt and our Catamaran Racing shirt. Thanks for your interest and support!



Anti PWC T Shirt


Our first T shirt offer celebrates our most popular humor article, The Ultimate PWC Repellent. Show your "love" for personal water craft!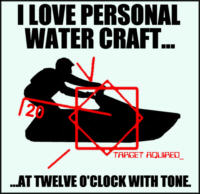 Front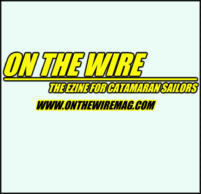 Back



Catarmaran Racing T Shirt


Let 'em know you race! Our second T shirt makes for great "regatta wear". Or use in mixed company to start conversation and possibly recruit some new sailors with your adventure stories.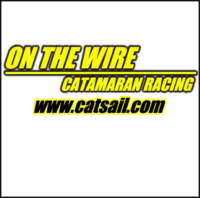 Front (Small logo).
Back (Big logo).
CLICK ON IMAGE FOR FULL SIZE VIEW

Shirts are available in LRG, XLRG, and XXLRG sizes, and are $18 each plus $3 shipping for any quantity. Tax will be added for California residents. Proceeds help offset the costs of maintaining this site, and keep it free of subscription/access charges.

Our shirts are high quality cotton, and offered with a full money back guarantee . If you are not satisfied for any reason, simply return the shirt in new condition and we will refund your money. (Shirts returned with blood and massive rips are okay, providing that you write an article on how it happened.)
---
Here's how to order your shirt(s):
Step 1
Fill out the online form below. (Note to those filling out paper versions of this form: Add $3 shipping for any quantity order. CA residents add 7.25% sales tax).
Step 2
Run out to the mailbox and mail your payment.

Your check should be payable to LPM, and mailed to:

On The Wire
3480 Hadley
Santa Maria, CA 93455

Step 3
Run out to the mailbox and and wait 4 to 6 weeks for delivery. (Shirts in stock will be shipped as soon as your check is received.)