WingZ Sailboats announces a brand new line of performance and cruising sailboats.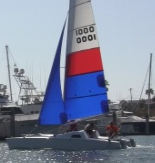 La Costa, CA — August 20, 2010 — The amazing and affordable Z-21 is truly a unique value proposition.  WingZ purchased the original hull and deck tooling of the R21 catamaran designed by Randy Reynolds.  Then John Slattebo, the design engineer at WingZ, went to work on updating and re-designing many aspect of the Reynolds 21.  The new Z-21 is now faster and simply a better all-around boat.
"We have designed the Z-21 to be affordable for the average family," said Arthur Kelly, President of WingZ Sailboats.  "The Z-21 includes a host of standard features including the trailer and sails." "In fact, the last time I checked, we only had seven options and none were necessary to enjoy using the boat the day it is purchased."
The Z-21 is hands down the best value on the market at a price point of just $17,495.00  WingZ didn't cut any corners either.  She comes standard with Ronstan deck hardware, Schaefer furling systems, Z-Spars spar mast and boom, Loos standing rigging and New England Ropes Sta-Set and Sta-Set X running rigging.  These companies are known for producing top shelf products with innovative designs.  WingZ is offering an additional buyer incentive of $500 if a Z-21 is purchased from inventory or ordered by December 31, 2010.
"The construction is not exotic," said John Slattebo.  "You will not find any carbon fiber or other high-tech materials, frankly, the boat doesn't need them."  The Z-21 has a laminate construction of vinylester resin and a Divinycell foam core.  Most components of the boat are vacuum bagged as well.
In the U.S. the Z-21 is being offered direct to consumer.  By bypassing the traditional dealer showroom floor, Kelly can pass along the normal 20 to30% dealer commission as a savings to his customers. 
Some of the standard features include a dimension-polyant Dacron Fat Head main sail with full battens, jib, high performance kick-up rudder, retractable/removable dagger boards, four sleeping berths, storage lockers, and a dual axle trailer.
The Z-21 was designed to be easily sailed by a novice while offering exhilarating performance for the seasoned sailor as well. Depending on wind conditions and sail selection, she is easily capable of 20 plus knots of boat speed! For those that enjoy racing, the Z-21 will be extremely competitive in Wednesday night and coastal distance events.
WingZ Z-33 Classic and Z-33S
WingZ is proud to announce the availability of the Z-33 Classic.  If you are a Hobie 33 enthusiast then you will love the Z-33.  WingZ recently acquired the original tooling and is now producing a 100% class legal boat.
Available this fall will be the Z-33S.  Kelly likes to call this the "wicked sister" of  the Z-33 Classic/Hobie 33 .  The S has the same hull and class specifications as the Z-33 Classic, but with a more modern and functional cockpit.
One of the most incredible things about the Z-33 Classic is the low cost of ownership. The Hobie 33 has enjoyed an incredibly high resale value over the years with current offerings in good condition starting in the low $20's and up.
Arthur would love to see the class grow once again. For that reason, he is offering an incredible value on the first 5 boats built. Simply place $1,500.00 in escrow and a new Z-33 Classic can be yours for the incredible price of $38,750!
WingZ Z-80 Club Racer
Available in October is the Z-80 Club Racer.  This dinghy is just plain fun to sail.  With the cost of a new Bic, Laser, Optimist, etc. at a frightful level, the Z-80 provides yet another affordable value based alternative.  The Z-80 is fast and safe to sail. She will have the latest technical advances in spars, sails and hardware plus her hull is built in carbon fiber.
WingZ Z33-C and Z-33DS
Two other exceptional boats will be available in the winter of 2010.  The Z-33C is a 33' trailerable cruising sailboat.  She is priced for the average family and offers standing headroom and spacious amenities down below. The other boat is the Z-33DS. Kelly likes to call this a "Gentlemen's Daysailor".  This boat is designed for exceptional sailing ability with a large comfortable cockpit, sail drive, pedestal wheel, creature comforts down below and head turning looks.
Founded in 2009, WingZ Sailboats, LLC located in La Costa CA, offers a value proposition in the sailboat marketplace that will cause competitors to rethink how they do business. WingZ offers a wide range of affordable sailboats that are within easy reach of the average American family.
See pictures, video and find out more about all the great boats that WingZ Sailboats offers. Please visit www.WingZsailboats.com [4].  Contact WingZ at customerservice@wingzsailboats.com [5] or toll free at 888.711.6382.