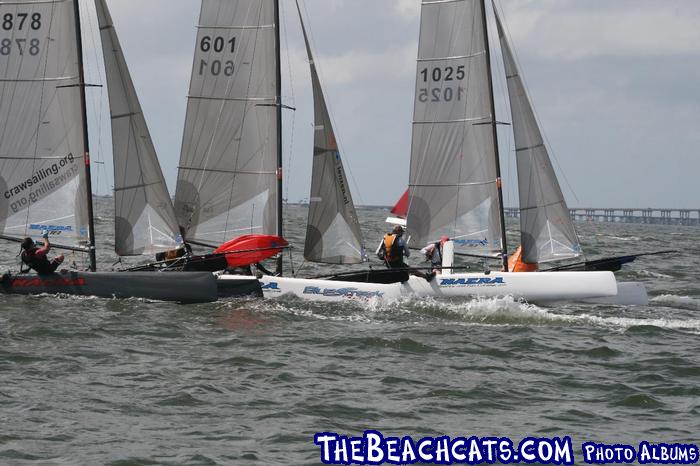 [4]
Pensacola Beach Florida, Key Sailing - October 15, 2008
Photo by Philip Mumm, pictures from the event are available for purchase. For picture information contact Philip at 205-870-8800
Day three continued the awesome conditions and close racing. Robbie Daniels continues to dominate and now holds a 24 point lead over the second place, but then only 11 points separate the next four teams, so it's still a battle for the medal positions. Day Three Pictures by Philip Mumm are posted [5] (195 of them!).
Click Day Three Title or read full article to view results through day three.
F-18 North Americans
Results as Wednesday October 15th
Overall
| Fleet | Class | Nat | SailNo | Helm | Crew | R1 | R2 | R3 | R4 | R5 | R6 | R7 | R8 | R9 | R10 | R11 | Total | Nett |
| --- | --- | --- | --- | --- | --- | --- | --- | --- | --- | --- | --- | --- | --- | --- | --- | --- | --- | --- |
| F-18 | Capricorn | USA | 99 | Robbie Daniel | Hunter Stunzi | 1.0 | 1.0 | 1.0 | (3.0) | 1.0 | 2.0 | 1.0 | 2.0 | 3.0 | 1.0 | 1.0 | 17.0 | 14.0 |
| F-18 | Infusion | USA | 1042 | Michael Easton | Tripp Burd | 7.0 | 5.0 | 3.0 | 1.0 | 6.0 | 6.0 | 4.0 | (10.0) | 1.0 | 3.0 | 2.0 | 48.0 | 38.0 |
| F-18 | Infusion | USA | 1037 | Andrew Macpherson | Ferdinand Van West | 3.0 | 2.0 | 4.0 | 5.0 | 3.0 | (34.0 ocs) | 5.0 | 3.0 | 2.0 | 8.0 | 6.0 | 75.0 | 41.0 |
| F-18 | Infusion | USA | 647 | John Casey | Kenny Pierce | 6.0 | 8.0 | 5.0 | 4.0 | 5.0 | 4.0 | 3.0 | 4.0 | 4.0 | 2.0 | (9.0) | 54.0 | 45.0 |
| F-18 | Infusion | USA | 05 | John Tomko | Ian Billings | 2.0 | 4.0 | (15.0) | 2.0 | 2.0 | 3.0 | 11.0 | 5.0 | 6.0 | 6.0 | 8.0 | 64.0 | 49.0 |
| F-18 | Infusion | USA | 858 | Enrique Figueroa | Jorge Hernandez | 8.0 | 7.0 | 6.0 | (34.0 dns) | 7.0 | 7.0 | 6.0 | 7.0 | 7.0 | 4.0 | 3.0 | 96.0 | 62.0 |
| F-18 | Capricorn | USA/Aussie | 70 | Greg Goodall | John Williams | 5.0 | 6.0 | 2.0 | (34.0 dnf) | 8.0 | 1.0 | 2.0 | 1.0 | 5.0 | 34.0 ocs | 5.0 | 103.0 | 69.0 |
| F-18 | Capricorn | Canada | 101 | Louis-Philippe Ethier | Maxime Loiselle | 4.0 | 3.0 | (34.0 ocs) | 6.0 | 4.0 | 8.0 | 7.0 | 34.0 dnf | 8.0 | 7.0 | 4.0 | 119.0 | 85.0 |
| F-18 | Infusion | USA | 7 | Mike Krantz | David Lennard | 9.0 | 9.0 | 7.0 | 7.0 | (34.0 DNF) | 9.0 | 8.0 | 6.0 | 9.0 | 10.0 | 12.0 | 120.0 | 86.0 |
| F-18 | Infusion | USA | 1028 | Nigel Pitt | Bert Rice | 11.0 | 13.0 | (14.0) | 8.0 | 10.0 | 5.0 | 9.0 | 11.0 | 10.0 | 9.0 | 7.0 | 107.0 | 93.0 |
| F-18 | Infusion | USA | 1025 | Kirk Newkirk | Glenn Holmes | 10.0 | 16.0 | 9.0 | 9.0 | 12.0 | 10.0 | 10.0 | 12.0 | 11.0 | 5.0 | (17.0) | 121.0 | 104.0 |
| F-18 | Infusion | Canada | 1009 | Jean-Marc Proulx | Mathieu Chagnon | 13.0 | 10.0 | 8.0 | 10.0 | (34.0 ocs) | 15.0 | 20.0 | 8.0 | 14.0 | 15.0 | 15.0 | 162.0 | 128.0 |
| F-18 | Infusion | USA | 878 | Brent Carlson | Jennifer Carlson | 14.0 | 20.0 | 10.0 | 13.0 | 14.0 | 13.0 | 16.0 | 13.0 | (25.0) | 16.0 | 13.0 | 167.0 | 142.0 |
| F-18 | Capricorn | USA | 81 | Norman Chu | Gary Chu | 20.0 | 12.0 | 13.0 | 12.0 | 16.0 | 16.0 | 12.0 | 16.0 | 12.0 | 20.0 | (26.0) | 175.0 | 149.0 |
| F-18 | Infusion | Canada | 961 | Martin Hamel | Jean-Francon Boulianne | 15.0 | 11.0 | 18.0 | (34.0 dnf) | 9.0 | 24.0 | 17.0 | 15.0 | 16.0 | 13.0 | 18.0 | 190.0 | 156.0 |
| F-18 | Infusion | USA | 667 | Iam Sammis | Robby Kleinschmit | 21.0 | (34.0 dnf) | 34.0 ocs | 14.0 | 11.0 | 11.0 | 13.0 | 9.0 | 13.0 | 18.0 | 16.0 | 194.0 | 160.0 |
| F-18 | Infusion | USA | 873 | Sandra Tartaglino | | (25.0) | 22.0 | 11.0 | 22.0 | 13.0 | 18.0 | 18.0 | 18.0 | 17.0 | 12.0 | 10.0 | 186.0 | 161.0 |
| F-18 | Infusion | USA | 692 | John Johnson | Daniel Hearn | 12.0 | 17.0 | 19.0 | (34.0 dns) | 23.0 | 12.0 | 14.0 | 14.0 | 15.0 | 22.0 | 14.0 | 196.0 | 162.0 |
| F-18 | Tiger | USA | 2541 | Dan Delave | Eileen Haubl | 18.0 | 15.0 | 16.0 | (34.0 dnf) | 19.0 | 14.0 | 19.0 | 22.0 | 22.0 | 11.0 | 22.0 | 212.0 | 178.0 |
| F-18 | Capricorn | USA | 83 | Jennifer Lindsay | Fred Metcalf | 17.0 | 21.0 | 17.0 | 16.0 | 15.0 | 17.0 | 15.0 | (34.0 dnf) | 34.0 dnc | 14.0 | 21.0 | 221.0 | 187.0 |
| F-18 | Infusion | USA | 601 | Joe Leanord | Chris Amador | 16.0 | 19.0 | 20.0 | 17.0 | 22.0 | 23.0 | 21.0 | 17.0 | 20.0 | 17.0 | (29.0) | 221.0 | 192.0 |
| F-18 | Infusion | USA | 685 | James Zellmer | Nora Zellmer | (27.0) | 25.0 | 12.0 | 21.0 | 17.0 | 26.0 | 22.0 | 21.0 | 26.0 | 21.0 | 11.0 | 229.0 | 202.0 |
| F-18 | Capricorn | Canada | 100 | Nicolas Dube | Anthony Boueilh | 24.0 | 14.0 | 26.0 | 15.0 | 20.0 | 19.0 | (29.0) | 29.0 | 23.0 | 19.0 | 23.0 | 241.0 | 212.0 |
| F-18 | Infusion | USA | 623 | Andy Humphries | Michael McNeir | 19.0 | 18.0 | 21.0 | 25.0 | (34.0 dnc) | 21.0 | 26.0 | 26.0 | 21.0 | 24.0 | 25.0 | 260.0 | 226.0 |
| F-18 | Infusion | USA | 671 | Randy Johnson | Brad Hal??h | 23.0 | 24.0 | 22.0 | 19.0 | 21.0 | 25.0 | 27.0 | 19.0 | 27.0 | (28.0) | 24.0 | 259.0 | 231.0 |
| F-18 | Tiger | Canada | 2223 | Moyra Deans | Cabot Broughton | (34.0 dnf) | 34.0 DNC | 34.0 DNC | 18.0 | 18.0 | 20.0 | 24.0 | 23.0 | 19.0 | 23.0 | 20.0 | 267.0 | 233.0 |
| F-18 | Infusion | USA | 588 | Steve Miller | | 22.0 | 23.0 | 23.0 | 20.0 | 26.0 | 28.0 | 31.0 | (34.0 dnf) | 30.0 | 27.0 | 31.0 | 295.0 | 261.0 |
| F-18 | Tiger | USA | 1047 | Kenny Boudreaux | Mak Ederer | 26.0 | 26.0 | 24.0 | 24.0 | 27.0 | 27.0 | 28.0 | 25.0 | (29.0) | 26.0 | 28.0 | 290.0 | 261.0 |
| F-18 | Infusion | USA | 573 | Taylor Reiss | Mathew Whitehead | (34.0 DNC) | 34.0 DNC | 25.0 | 27.0 | 24.0 | 22.0 | 25.0 | 27.0 | 31.0 | 25.0 | 27.0 | 301.0 | 267.0 |
| F-18 | Tiger | USA | 2211 | Steve Titus | Rick Adams | (34.0 dnf) | 27.0 | 27.0 | 23.0 | 25.0 | 29.0 | 30.0 | 24.0 | 28.0 | 34.0 ocs | 32.0 | 313.0 | 279.0 |
| F-18 | Infusion | USA | 813 | Guy Selsmeyer | Debbie Selsmeyer | (34.0 DNF) | 34.0 DNC | 34.0 ocs | 11.0 | 34.0 dnf | 34.0 DNC | 34.0 DNC | 34.0 dnf | 18.0 | 34.0 ocs | 19.0 | 320.0 | 286.0 |
| F-18 | Tiger | USA | 2476 | Dan Krueger | Kelly Krueger | (34.0 dns) | 34.0 dnf | 34.0 DNC | 26.0 | 28.0 | 34.0 dnf | 23.0 | 20.0 | 24.0 | 34.0 ocs | 30.0 | 321.0 | 287.0 |
| F-18 | Tiger | USA | 2364 | Barry Robinson | Brett Robinson | (34.0 dnf) | 34.0 DNC | 34.0 dnf | 34.0 dnc | 34.0 dnc | 34.0 DNC | 34.0 DNC | 28.0 | 32.0 | 29.0 | 33.0 | 360.0 | 326.0 |